Today I was booked to take a tour with a touring company named Haggis adventures. Unlike the St. Andrews tour from Day 9, which was filled with folks over 60 years old, this tour catered to travelers in their 20's, and took a "hip" approach to traveling. I was sort of apprehensive to this "hip" approach at first, because usually when someone tries too hard to make something fun; it backfires and doesn't work well.
This was not the case with this tour. It was actually pretty hip, not pretentious, and a hell of a lot of fun! Our tour guide was named Disco Dave (from this point forward we'll call him Disco), and he was absolutely hilarious. He was very well spoken, even though he had a very thick Scottish accent. Perhaps it's because I've spent the last week talking to Scotsmen, but I didn't have any problems understanding him along the way. He was energetic the entire trip and really knew his history! He was shouting out facts and dates left and right, and I was impressed with his narration style.
I had planned on reading during the down time I had on the bus trip, but Disco did a great job of filling the moments of silence. I learned some history that I wouldn't have known before, and Disco put his own twist on the events of Scottish history in order to make things seem more like a funny story rather than a serious lecture. He told us about how just about all of the facts found in the movie Braveheart are 100% wrong, and then supported this statement with "scientific facts" as he liked to call them. I knew I was going to enjoy the tour shortly into the tour when he said the following:
Anyone hear a seen tha movie Braveheart? Thas one of muh favrite moovies. Far as moovies go, it's a 25 out of 10. Buht I must tell ya, as far as accuracy goes, it's about a -25 out of 10.
Once again, I'm not going to tell you the whole story about why it's inaccurate, just that he pointed out some serious inaccuracies about the movie. If you'd like to read a list of historical inaccuracies of Braveheart, you can see an entry from Wikipedia. Man, I love Wikipedia… it does all the work for me!
As he was talking about William Wallace and Robert the Bruce (who was the REAL Braveheart), we drove through a town of Stirling, which was the location where much of the battles of Braveheart took place. We also drove right past the William Wallace monument, which would have been fun to see in person.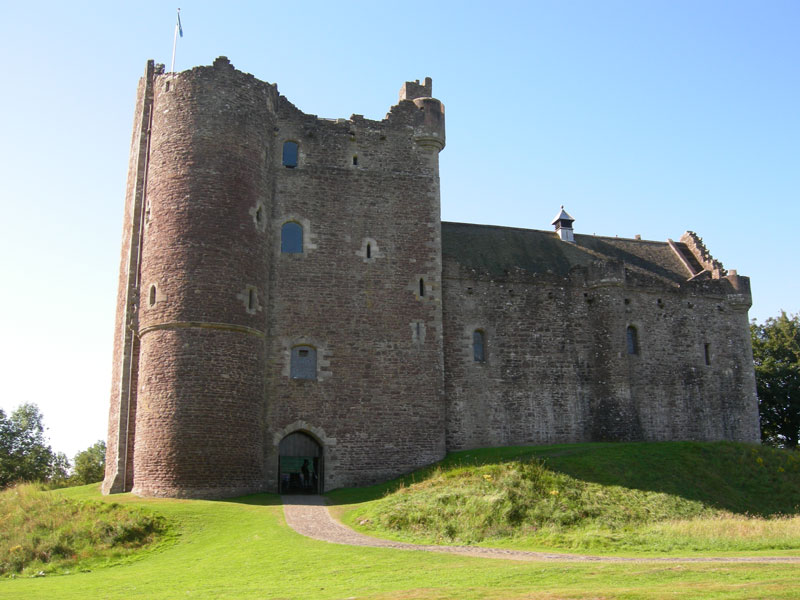 After we went through Stirling, we stopped at a place called the Doune Castle, which is a 14th century castle just northeast of Stirling. We took some cool pictures along the grounds of the castle, and we could have taken a tour of the castle if we fancied (although Disco discouraged us from taking the tour, because it wasn't worth the money). So, after about 2 minutes and three snaps of the camera, I had already taken my pictures. I still had 20 minutes left to explore, so Becky and I decided to walk around the grounds and see what was around.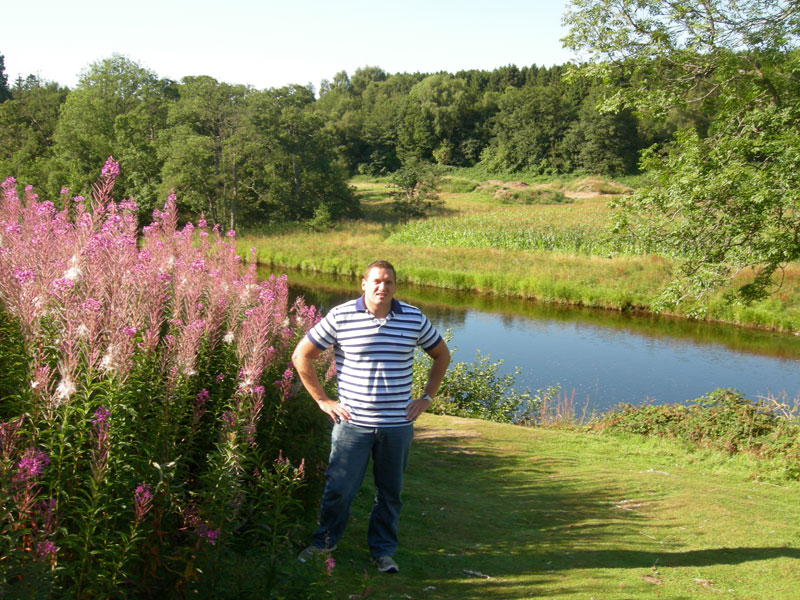 We ended up walking to a river, and we took some cool shots near some pink flowered bushes. I think my mom will really enjoy that shot! The grounds around the castle were very well preserved, and looked awesome. It was a great little nature walk, and I wish I had more time to explore. Too bad we only had 20 minutes! We walked back to the castle, and browsed the gift shop, where there were lots of Monty Python and the Holy Grail oriented items.
Why would there be Monty Python items at a Scottish castle you ask? Well, that's because much of the scenes in Monty Python and the Holy Grail were filmed at Doune Castle! Follow the link if you're a diehard Monty Python fan and you'd like to learn more.
Our next stop was for coffee in a small town right before the highlands. Nothing significant happened there, so I'll move on. We traveled up near the Highlands, and eventually got to a city named Callander, which is regarded as the gateway to the Highlands. Disco Dave also let us in on a little tidbit about the population of Callander; they are old. He said that the average age of the city residents is 68 years! That's an old town full of old people.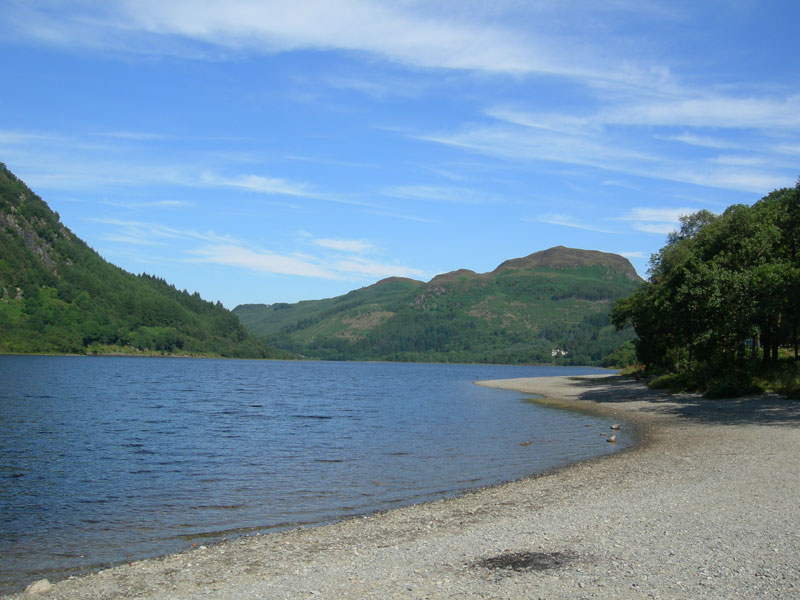 We moved on to the Highlands, particularly the land of the MacGregors; namely Rob Roy. I didn't know much about Rob Roy going into this trip, so it was interesting to hear about his accomplishments, and the life he lead. It was also cool to see his native land, which was absolutely stunning!
The Highlands are beautiful, and I was able to take some cool photos of the area. I also was treated to stories by Disco, about the surroundings, which made things even more interesting. Once again, I'm not going to go too in depth with the history of Rob Roy, but if you're interested in learning more, check out Wikipedia's article about Rob Roy and his accomplishments.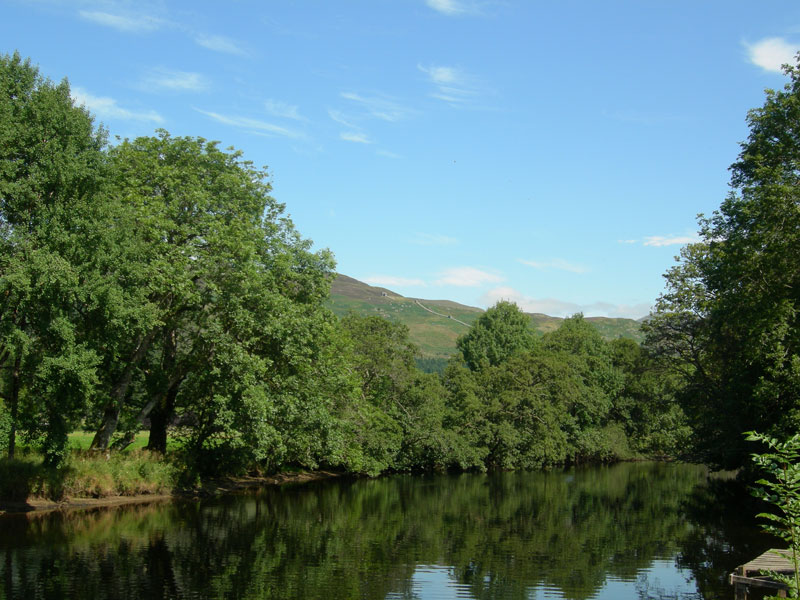 After a short stop at the Loch (as found in my picture), we headed to a village called Killin for a well needed lunch break. I was really hungry, so I was ready to get something to eat. I did, however, want to explore as well, so I tried to do both at the same time. I wandered the streets of Killin, trying to find an eatery, yet had no luck. I did find an opening in the city, though, and I was able to take a great shot of a river clearing with the Highlands in the background.
I wondered some more, and eventually found a place to eat (the appropriately titled "wee little bakery"). I got two sandwiches that weren't very good (threw most of the second away), and got back on the bus, hungry and unsatisfied.
That's ok, though, because the next stop on the tour was the Glenturret Whiskey distillery! This was one of the main reasons why I chose this tour, so I was excited for my chance to taste the "water of life" in its natural element. When we arrived, I was disappointed to learn that they did not allow photos! Apparently the alcohol is too unstable for flash photography or some BS. It's unfortunate, too, because I would have loved to get some shots for my dad.
So, instead of taking shots with my camera, I took some shots the old fashioned way; in a shot glass. As part of the tour, we were allotted a "wee dram of whiskey". This meant one little sampler glass. I wasn't satisfied with this small amount, so I followed Disco Dave's advice and I took a couple of extras for myself (before we entered the distillery, he gave us the advice of "ya see here, tha goal ov tha touer is ta get as much whiskay as ya can"). It made me really warm inside.
The rest of the tour was pretty straightforward (even boring if you will), and the tour wound up at about 4 PM. This was the last part of the tour, and our next stop was Edinburgh. We got back to the city center around 5:30 and I hurried off to a chippy to enjoy some food (I was starving the last several hours of the ride home because of my lunch choice).
Tomorrow I'm going to Loch Ness. It may be my last diary (depending on if anything fun happens on Wednesday), so I may get a little sentimental as I'm writing.