Today was the last of consecutive days of bus tours. Overkill, I know. The only reason why we booked this particular day tour was the destination; Loch Ness. Although I'm glad that I was able to say "I went to Loch Ness", I really didn't enjoy the tour very much as a whole and it really seemed like a waste of time (12 hours) and money (37 pound/$73 US).
With that said, I'm committed to tell you a diary of all the events of my trip, both good and bad. Perhaps after I give my explanation, you'll see why I didn't enjoy myself as much as I would have liked, and perhaps it will help those planning on visiting Scotland in the future.
Tuesday's tour was put on by Haggis Adventures, the same tour company we used on Monday. We also had the same driver from Monday, Neil, and a similar sized group of people. The bus was a lot smaller, and not as nice, which is unfortunate because this tour was scheduled to last 12 hours, whereas the other only lasted 8 hours. Also, this tour did not have a guide, our guide Neil had to drive and talk at the same time. He did a great job, though!
I think that there were several factors working against me that made my mood sort of bitter toward the whole Loch Ness experience. I'm sure some of this bitterness influenced my fun level, but I guess there wasn't much I could do about it.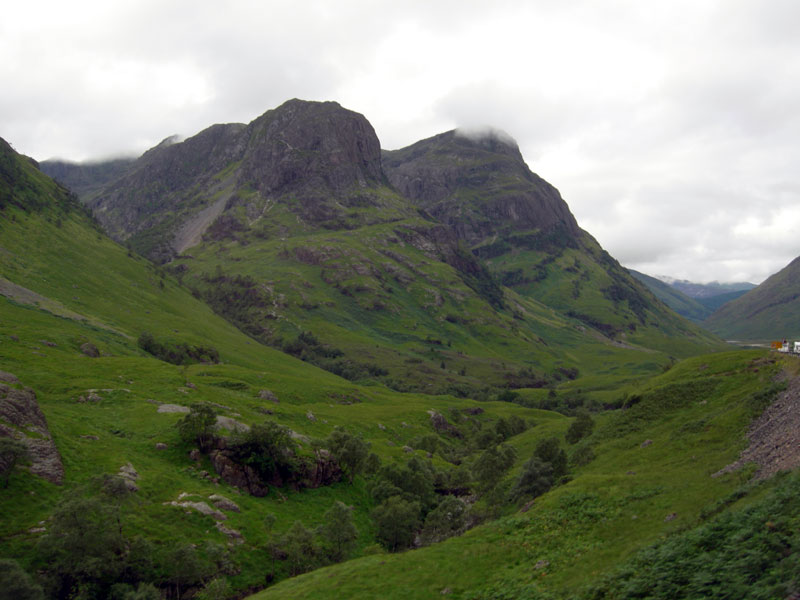 The first factor was the fact that I had been traveling on busses the previous two days. I spent 16 hours committed to day tours and about 11 of those were confined to a bus! That's a lot of time to be stuck in a bus. On this tour, we spent another 9-10 hours in a bus, so my three day total was 20+ hours in a bus! I think it wore me down and made me a little bitter as a result.
The second factor was the weather. Unlike Monday's tour, which had beautiful weather, today was a crappy day outside. It was cloudy 95% of the time, with some rain mixed in. Today's tour was a sightseeing tour, so a lack of sunshine severely limited the visibility of the sights we set out to see. Sunlight also affects the quality of the photos I take, so I felt that some of my photos didn't come close to representing the surreal views I saw from the bus/outside of the bus. I still did get some awesome pictures, just not as many as I had hoped (I'm posting them out of order, just so that I can fit them all into the post).
The third factor was the tour route and narration. Now I'm not saying the tour guide Neil did a bad job, because that's not true. He did an excellent job of narrating and driving, and I had a lot of respect for him because he was able to drive and give a tour at the same time! That's talent!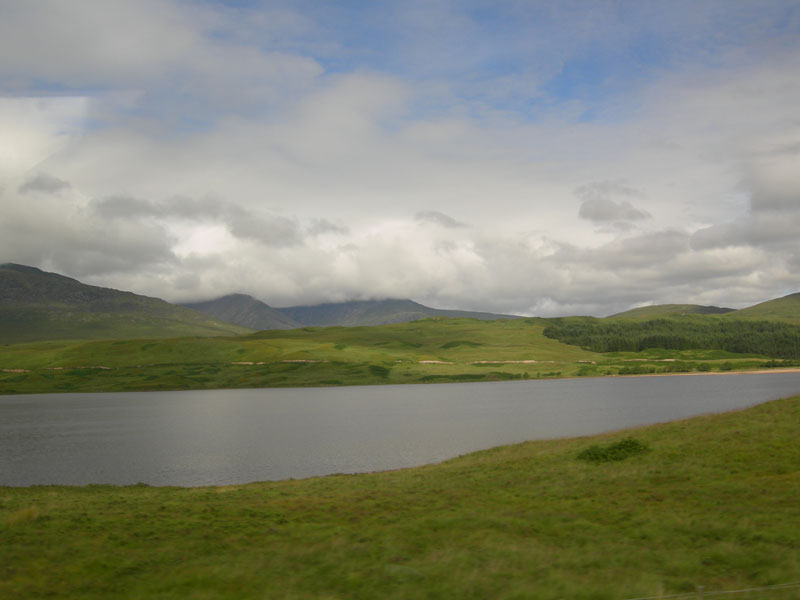 What did upset me about the tour route and narration was that there was significant overlap between the two trips! I'd say that there were at least 3-4 hours of overlap. When we drove, we went along the SAME ROUTE. When he talked, he said the SAME THINGS that Disco Dave told us the day before. When we stopped, we stopped at the SAME SPOTS as those the previous day. I was annoyed that there was so much overlap, because it felt like I was wasting money.
The fourth factor is that I felt I didn't get a good value on this trip. As I mentioned earlier, the trip cost me about $73. That included the bus ride ($60) and an additional fee to ride the boat in Loch Ness. I'll get into details on the boat ride later, but let's just say it wasn't worth the money. I thought that the boat trip price would be included in the price of the tour, when I learned that this wasn't true, I ended up resenting the entire boat experience.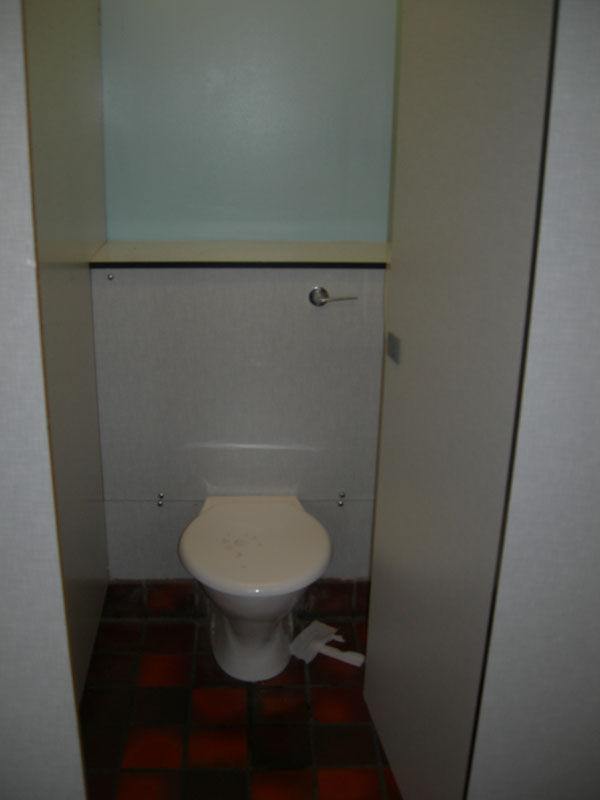 The fifth factor was something embarrassing that happened to me. At about 10:30 we made a stop at a town for a bathroom and coffee break (the same one as the day before). I went to the bathroom and saw that all of the urinals were occupied, so I went into the toilet stall. I locked it and did my business. When I tried to leave the stall, the door wouldn't open. I was stuck in the bathroom stall!
So I started rustling with the door latch, and someone must have heard me, because I heard a voice saying "are you stuck in the there?" I answered "yes". He responded "hold on, let me get someone to help you out". Then I heard him yell "hey get over here, someone's stuck in the bathroom!"
Thanks for bringing attention to me, buddy!
Another guy came over and tried to fix the lock, but it wasn't working. The tour bus was set to take off in 3 minutes, so I was starting to get worried. I looked around the stall for an escape, but nothing jumped out. Another minute passed, and the guy still couldn't get the lock open. So, I had them send me a chair over the top of the next stall. I stood up and tried to get up. No luck again!
Finally, I noticed that there was a ledge behind the toilet about waist level. I climbed on it and slid through the opening between the stall and the roof, and dropped down on the ledge on the next stall. I escaped! Now that's some James Bond shit!!
Ok, the last factor was more funny than anything, but I think that some combination of all of these factors made me a little bitter. And really, things weren't that bad on the trip. I still didn't think it was worth the money, but I did take away some good memories.
One thing that I took away is something that I will always look back fondly upon for the rest of my life, and that is the Highlands of Scotland. Simply put, the Highlands are absolutely beautiful! I can't describe in words how cool it was to see this infinite land of Ben's (mountains), Glen's (valleys) and Loch's (lakes). Everything was picturesque, and everything seemed so untouched.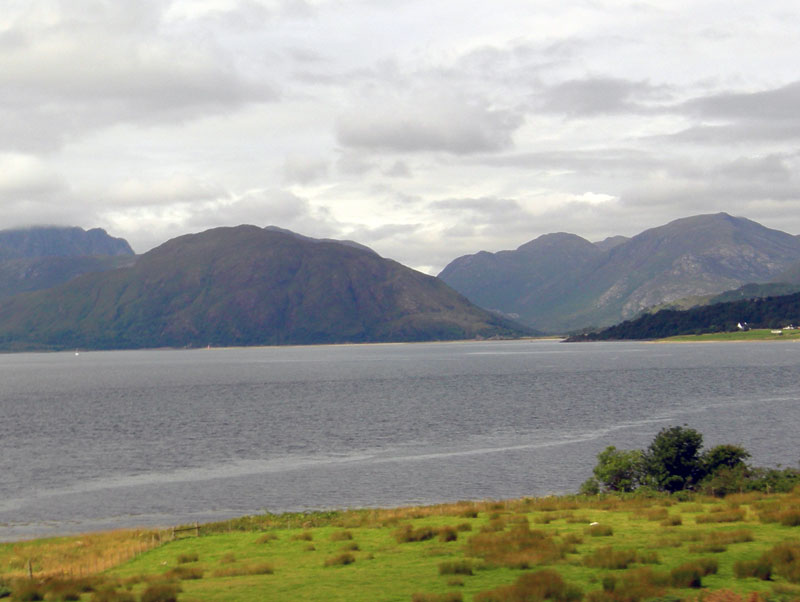 For you Minnesotan's, there's a lot of contrast in the way Scotland is settled. In Scotland, there are over 30,000 Loch's and only 5 million people. In Minnesota, there are 10,000 lakes (most likely more than that) and nearly 5 million people. Minnesota is almost 3 times larger than Scotland. Which of these areas would you guess has more lake homes?
The obvious answer would be Scotland, as there are far more people per lake, and there is much less land mass. But the real answer is Minnesota. As you have probably seen in my last several blog posts, there are almost no houses on the lochs of Scotland! Why is this? I'm not sure. I tried asking some of my Scottish friends about this phenomenon, but I couldn't find an answer. My guess is that the wilderness of Scotland is highly protected by law, and building in the areas is rather difficult. However, there were existing houses on these lakes, so I wonder how they were allowed. It'd take much more research to figure out this phenomenon, so perhaps it's just best to move on.
As I said earlier, the Highlands are simply beautiful. So beautiful, in fact, that I resented the fact that I wasn't able to pull the bus aside every 5 minutes to take another pristine photograph. It was difficult for me to drive through such great wilderness and not be able to control my own fate. I would have been much more satisfied if I would have been driving through the area, as I would have been able to get out of my car at will, and take photos, picnic, etc. I'll have to check into the regulations, but I'd at least like to go camping in the highlands at some point in my life. Are any of you interested?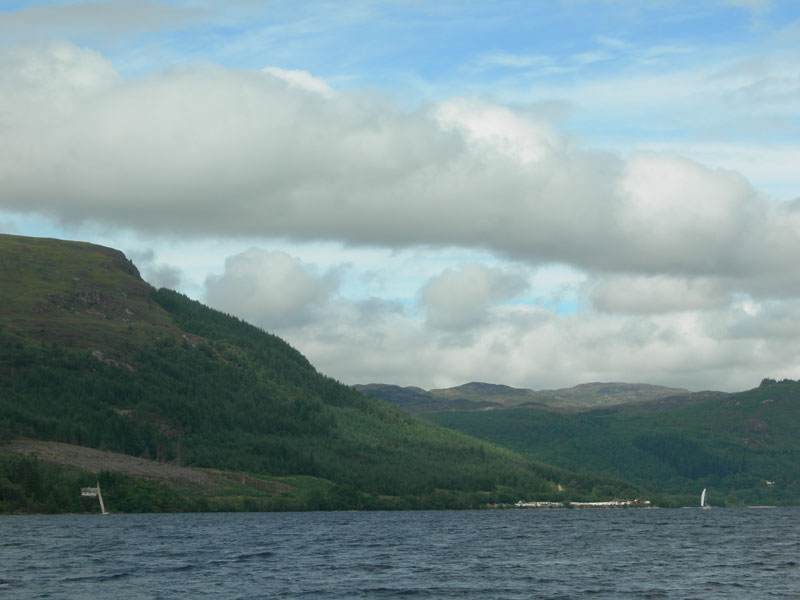 Back to the story. The tour went through several towns and miles of pristine wilderness, saw some great views, and listened to some loud music. Eventually we ended up at Loch Ness, and immediately boarded the Loch Ness tour boat.
Here are my initial impressions of the boat: overcrowded, unfriendly, and slow (in no particular order). It also happened to be cold outside, so half of the people on the boat were freezing their arses off.
Of course, those freezing their arses off could take comfort in the soothing sounds of the computer recorded narration of the boat tour. I emphasize the word "could", because that would be an ideal situation. In reality, the narration was about 10 volume levels too low, and nobody could really hear the recording. You'd think that for $15, you'd get a live voice, but that was apparently too much to ask.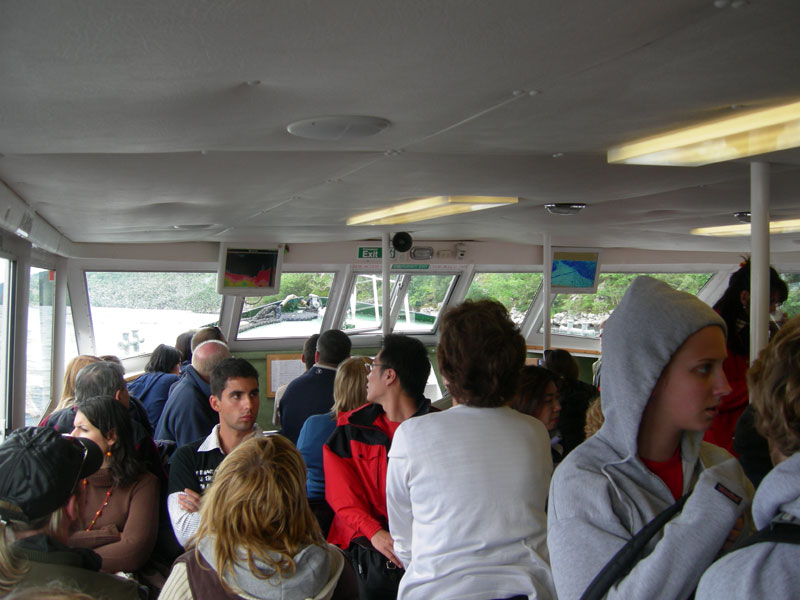 In addition to the crappy narration, there was also a 5 minute spiel from our marine biologist tour guide. Apparently, this guy is very well educated, and has been tracking the Loch Ness monster (aka Nessie) for 25 years! Our Haggis tour guide, Neil, talked about this guy as if he were a god in the scientific realm. I was excited to hear him talk when he was on the boat, because I wanted to know information about the Loch Ness monster.
What did I get? Well, nothing really! He explained the gadgets he had on the boat (depth finders, topography machines, etc.) and didn't really talk about Nessie. I'm sure that he probably has given this tour thousands of times over the years, but he should still be enthusiastic about his craft. When he talked to us, it seemed like he didn't even care about Loch Ness, and especially didn't care about the boatful of 50-100 people who paid 7.50 pound to ride his boat. You'd think that after making over $1000 USD for a 1 hour boat ride, and doing 5-8 of these a day would make him happy on a permanent basis. This wasn't the case, as this guy seemed to be pissed off that we were even bothering him.
Not only was this a waste of money, but it upset me to the point that I didn't even enjoy the views that the boat afforded me (thank the lord that I still took pictures of the Loch, because they were actually pretty good in retrospect).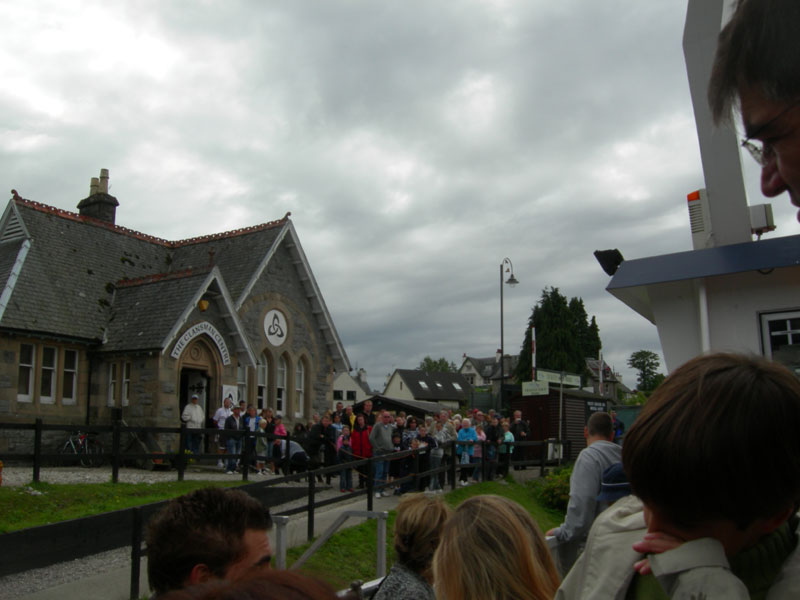 On the way back to the dock, I saw that there were a ton of people lined up for the next trip. I tried to look as depressed as possible in front of them, hoping they would change their minds. I also resisted my urge to yell "It's not worth it", but I decided against it.
After the boat ride, we had about 30 minutes to look around the town. I got a cappuccino and walked around for a while. I purchased two souvenir Scotland shot glasses to symbolize the trip, and that's about it.
Once we left Loch Ness, we took a fairly direct route back to Edinburgh. It still took another 3 hours to get back, but at least it was fairly peaceful (minus the extremely loud music being blasted on the bus).
As soon as we got back to Edinburgh, we boarded number 44 back to the flat, and chilled out for the rest of the night. Tomorrow is our last day in Edinburgh, and it's mainly a cleanup day. I don't think we'll be doing much during the day, so I probably won't be posting a blog entry.
If you haven't yet, you should comment on at least one blog, because your comments make me feel like this whole blog was worthwhile. Trust me, it wasn't easy writing diaries of substance (some were over 3500 words!) on a daily basis when you're abroad. It cuts into time I should be doing other things, like sleeping and drinking. That's a lot of sacrifice.See you when I'm back in the states!
Jeff