We've been running out of sights to see around Edinburgh, so we decided to travel to a new area that we hadn't been to previously. We took the 44 train into the City Center and then catch another bus to an area of town named Leith.
Leith has served as the port for Edinburgh for hundreds of years, and has a rich history, much like Edinburgh. It also went through some rough times after WW2, and until recently was regarded as a very "dodgy" part of town. Within the past several years, though, there has been a massive effort to clean up Leith, and it's actually becoming very "posh".
We boarded a bus to Leith Ocean Terminal, and showed the driver our bus pass. He let Ed and Becky on the bus, but he told me that I had the wrong bus pass. Apparently, we had ridden the 44 line on a "First" bus line, and not a "Lothian" bus line (these are the two major bus companies in Edinburgh). Up until this point, we had always taken a Lothian bus and paid 2.30 pound for an all day bus pass. Lothian runs about 10x as many busses and routes as First, so it was never a problem until this point.
The pass we bought was basically useless because First has so few busses and routes, that we would have spent all day waiting for another bus to come along! So, we basically paid 2.30 pound (almost $5 US) for a single bus ride.
Now we had a useless bus pass, and we were 1-2 miles away from Leith. Rather than forking over another 2.30 pound for a Lothian bus pass, we decided to walk to Leith. I think it was a good decision because it was a nice walk, good exercise, and there were some really cool shops along the way.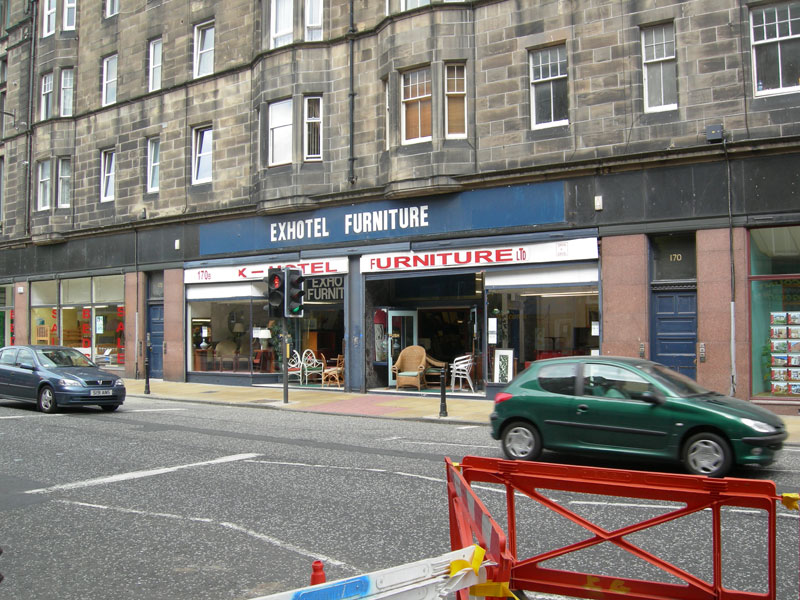 One of my favorite things about International travel is the crazy signage that you see along the way. There's something pure and static about signs that always intrigues me. You can learn a lot about a culture through their signs; because it shows you how they view themselves.
Conservative cultures have small and concise signs, whereas extravagant cultures tend to have immaculate signage. Poor cultures will have home-made signs, and rich cultures will have signs that are much more elaborate and costly. Cultures that are proud of their age will have words like "the oldest" or "the first". When it comes to signs, you can really learn a lot about a culture without saying a word.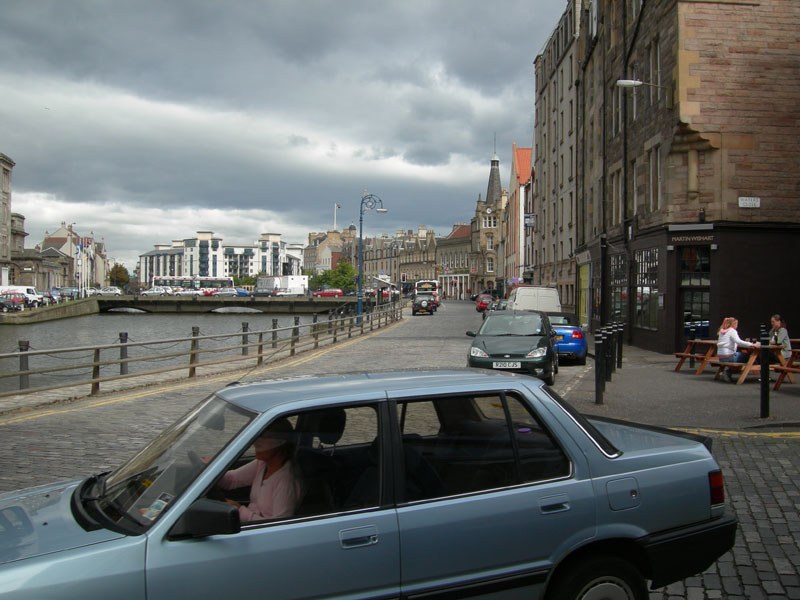 Our destination was the Ocean Terminal, which is a mall complex that is quite close to the water of Leith port. In order to get to Ocean terminal, we had to walk through the dodgy part of town. Surprisingly, even though I knew that this part of town was a little on the shady side, I never really felt unsafe. There were two many people walking the streets for me to have any reasons to feel unsafe. Plus, I'm 6'2″ and built like a brick shithouse, the UK doesn't allow guns, and I doubt any would be robber would want to mess with me on a hand to hand basis.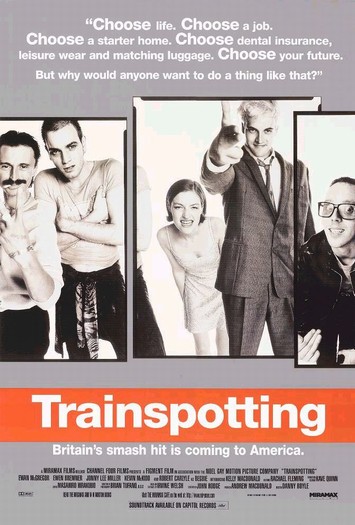 Elaborating on the "dodgy" designation of the streets of Leith, I found it interesting to learn that much of the book/movie Trainspotting was actually based in these streets. For those of you who don't know, Trainspotting is a phenomenal film about heroin users in Scotland. It got some bad press in the US because people thought it glorified drug usage. In my opinion, this wasn't the case, and I think that the negative press surrounding the film prevented many people from seeing the film. I actually fell into that boat until I watched the film for the first time last year. I was completely blown away! I had no idea what to expect, and I came out of watching the movie upset at myself for waiting so long to watch the film.
Now that I think about it, I actually think that the movie had at least a little bit to do with my interest in Scotland, and I may or may not have made this trip if it wasn't for seeing the movie! I suggest you pick it up if you haven't seen it yet.
After navigating the old streets of Leith, we finally made it to the Ocean Terminal. The mall itself is massive and über modern; a far departure from the streets we walked moments earlier. It was by far the closest thing that I have seen to an American shopping center, and made me feel somewhat at home as I walked through the three story building. Also much like American shopping centers, my tolerance for shopping is about 15 minutes, so we didn't really spend much time at the mall itself. However, before shipping off, we needed to see one landmark; the Royal Yacht Brittania.
Now I'll be honest with you, I didn't actually go on the yacht, and I'm not going to talk much about it on here, so if you're interested in learning more about the boat, please follow the wikipedia link above. What I will say is that this tourist trap was poorly located in the mall, and was a total ripoff. In order to get to the box office where tickets were sold to board the Royal Brittania, we needed to walk through the entire mall to the third floor. Tucked into a desolate corner was the ticket office. We figured that it would cost 1-5 pound to board the yacht, and we weren't really interested in boarding at any price (I've been on several old boats before, and I firmly believe that once you've seen one old boat, you've seen them all!). Our decision was made easy when we saw the price tag associated with boarding the boat; 9 pound! That's $18 for a 10 minute tour of some old British boat (ok, I wrote this before I read about the boat on wikipedia, and I take back some of what I said. The boat actually seems pretty cool after reading about, but still not worth $18).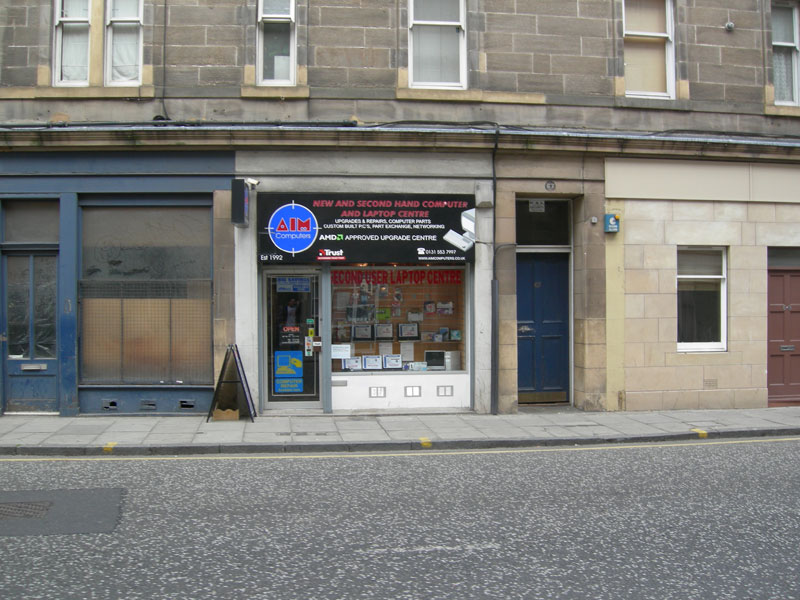 Ed and I decided that we didn't really want to shop at the mall anymore, so we decided to part ways with Becky (a borderline shopaholic), and walk back to the flat. This was at least a 5 mile walk, but we handled it like pros.
Along the way, we went through several different parts of town, and Ed seemed to have a story about each part. I guess that you amass several stories when you've lived in Edinburgh for a decent part of your life (I think I said this before, but Ed has spent between 1-2 years in Edinburgh to date).
We got about 4 miles into our walk and magically saw a First bus (the magical 44) so we decided to hop on and ride the bus the rest of the way home.
Back home we did our normal afternoon routine of cooking dinner and having a pint of Tenents tops. Becky came home a few hours later and we all tried to decide what to do for the rest of the night. One thing we had decided earlier in the day was that we would attend a Hearts game on Saturday, so Ed called and ordered tickets over the phone. After we ordered the tickets, we decided to walk about a half mile to a pub named the Sheep's Heid, to get a pint and a whiskey.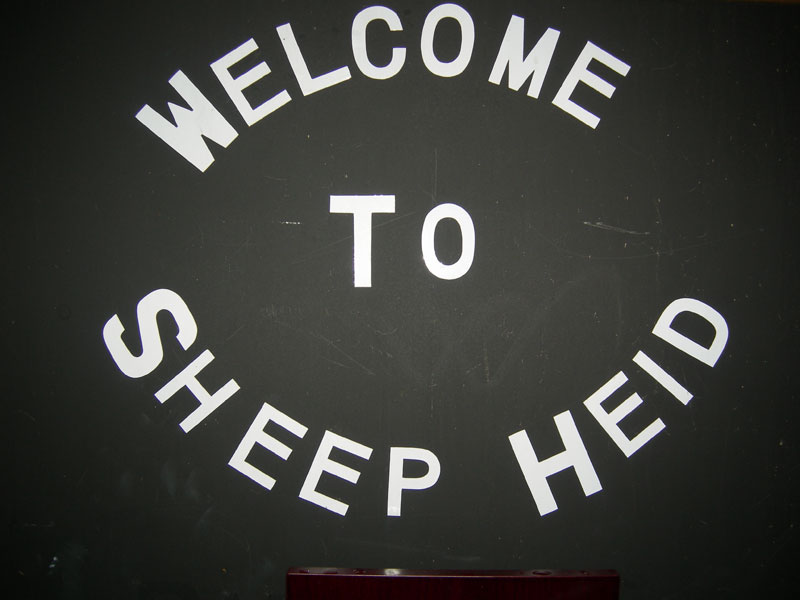 The Sheep's Heid is in a part of town named Duddingston, and is known as the oldest pub in Scotland. In fact, the pub is said to date all the way back to 1360! It was very cozy and friendly inside, and had a great overall atmosphere. It also was laced with history, and made for a great experience.
I ordered a pint of India Pale Ale and we sat and talked about what our plans were for the rest of the trip. About half way through my IPA, I decided that I'd also like to try another whiskey. We all know the phrase "when in Rome, do as the Romans", right? Well, I think I'd like to amend that proverb and make my new motto "when in Scotland, drink a whiskey".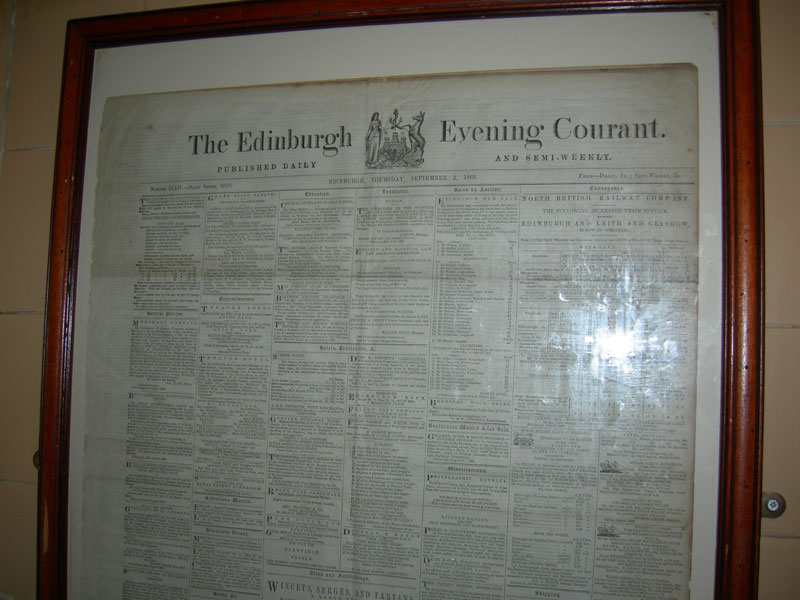 I think that's a little more fitting, especially given the abundance of whiskies that were available to me. So, I ordered a whiskey, and I ended up with a history lesson. I told the barkeep that I wanted a whiskey, and he asked me what kind I wanted. I told him that I'd like to have something traditional Scottish, and he suggested that I try a Glenmorangie. Surprisingly, this was the same Scotch that I had a day earlier, so I told him that I was already familiar with that particular glen, and that I'd like to try another. He asked me if I wanted to try something from the islands, and I said "aye". He poured me a whiskey and told me that this particular variety was smokier than the Glenmorangie. I paid him my 2.30 pound and said "cheers".
(Aye and cheers are two of my favorite sayings that I've picked up since I've been here. Aye is used often in everyday speech, and generally means "yes" or "affirmative". It's great conversation filler, and is really fun to say. Saying cheers is similar to saying thank you in the states, but perhaps a little less personal. I try to incorporate them into my interactions, and I really enjoy saying them. I'm sure you'll hear me say it when you see me next in the states!)
The barkeep was correct; the whiskey was very smoky and quite distinct. It was decent, and I enjoyed trying the new variety, but it's probably something I wouldn't order very often. It tasted a little TOO smoky, and I can't imagine how anyone would ever enjoy drinking a smoke tasting liquid.
After we finished our pints and whiskey, we walked back to the flat to call it an early night. I was still a little awake, so I decided to stay up for a while and catch up on things in the US. I read all about the new restrictions being placed on airlines, and I'm not really looking forward to my flight home! It's certainly inconvenient to have to travel home without any modern accommodations (laptop, ipod, etc.), but I guess it's better than being blown up mid air. I'm hoping that by the time I travel on Thursday that things will die down, but I'm really not sure what to expect at this time. If you see anything particular about traveling through Amsterdam and into the US, let me know. I'm trying to stay up on things, but I don't always have the inside track here.
Here is my schedule for the rest of the trip:
Friday – No real plans
Saturday – Go to a Hearts game and then go to a club later that night
Sunday – Visit St. Andrews
Monday – Visit Loch Ness (Ed leaves on Monday, so it's just Becky and I the rest of the trip)
Tuesday – Visit the Highlands (or at least a "highland tour") and tour a whiskey distillery
Wednesday – Regroup and get ready to leave
Thursday – Attempt to gain entry into the United States.