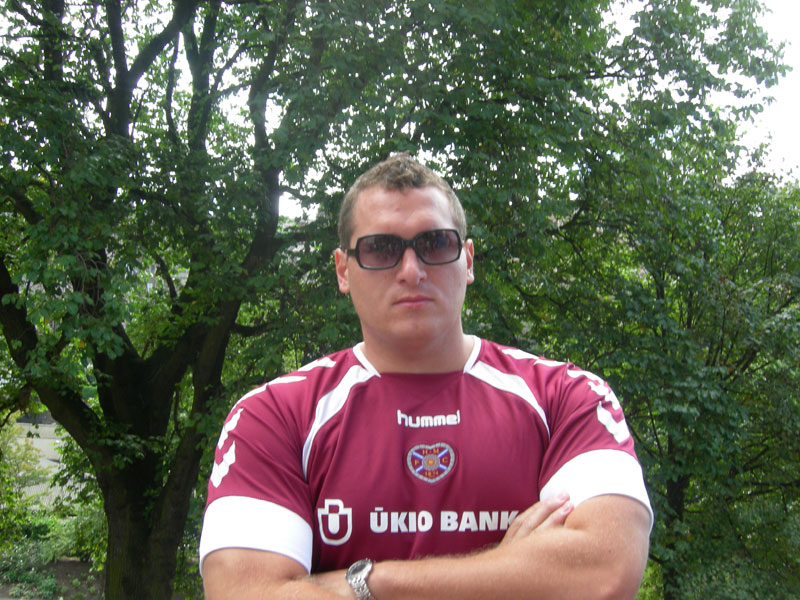 Today was the day of the Hearts. Well, at least today was the day where we went to see the Hearts to play. I was fully decked out in my Hearts stripes, and also fashioned my hair into a football faux hawk (the less risqué version of the European Soccer Mullet), and we took route 44 downtown at around noon. The game was at 3PM, so we had some time to hang out before the game started.
The first thing Becky and I did to fill time was go to the box office for the two bus tour companies we signed up for online (we're touring St. Andrews, Loch Ness and the Highlands by bus). We booked with one of the tour companies online, but the other required us to book in person. So, we went to their offices and booked the trip. I must still look young, because I got a student discount! We confirmed our reservations with the second bus company, and we were on our way.
Ed wasn't feeling well, so he decided not to go on the Sunday tour with us. Rather than go with us to book the reservations, he spent some time in the park relaxing. After we bought our tickets, we went back to the park to meet him, and on the way I took my picture with a guy playing bagpipes on the side of the road. As I stood next to him, he said something along the lines "well looksey here, you are a tall one aren't ya" in the most stereotypical Scottish accent possible. I thought that was pretty funny.
We still had a few hours to kill before the game, so we hung out downtown for another hour and then decided to walk to Tynecastle.
We walked the same route as the day before, and ended up at the stadium about an hour before kickoff. The gates opened at 2 PM and we went into Tynecastle and checked out their food offerings.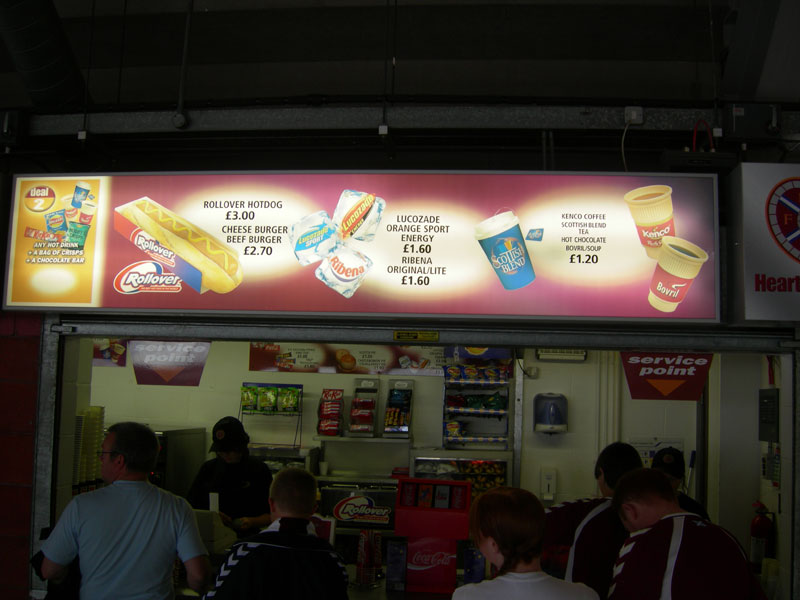 The food at the Hearts game was pretty different from the food you see at American sporting events with the only similar items being hot dogs and coke products. In addition to the hot dogs and coke, there were options that probably wouldn't be very popular in the states. For drinks they had coffee, tea, hot chocolate and soup. They also had Scotch pie, and a few other pie varieties. There was also a sports drink named Lucozade which tasted a lot like McDonald's Orange Drink (anyone who attended my college grad party knows how much I love Orange Drink from McDonalds).
I ordered a cheese and onion pie and some tea. It was fairly tasty, but too hot. I needed something cold, so I had a Lucozade as well. Once I finished, we walked up the stands to our seats. Since the game was a sell-out, our tickets weren't next to each other. They were within a row or two, but a few seats away as well.
The Hearts opponent on this day was Falkirk, a below-average team in the Scottish league who generally do not fare well each year. Earlier in the day I was walking down the street, wearing my Hearts stripes, and a Scotsman stopped me and asked "who'r tha Hearts playin today?" I responded "Falkirk". He responded "aye, should be an easy 3 points then, eh?". To which I responded "aye, cheers mate!"
I'm getting pretty good at this aye and cheers thing! Also, if you don't know much about soccer, "an easy 3 points" signifies an easy victory. In Soccer, a victory is worth 3 points, a tie is worth 1, and a loss is worth 0.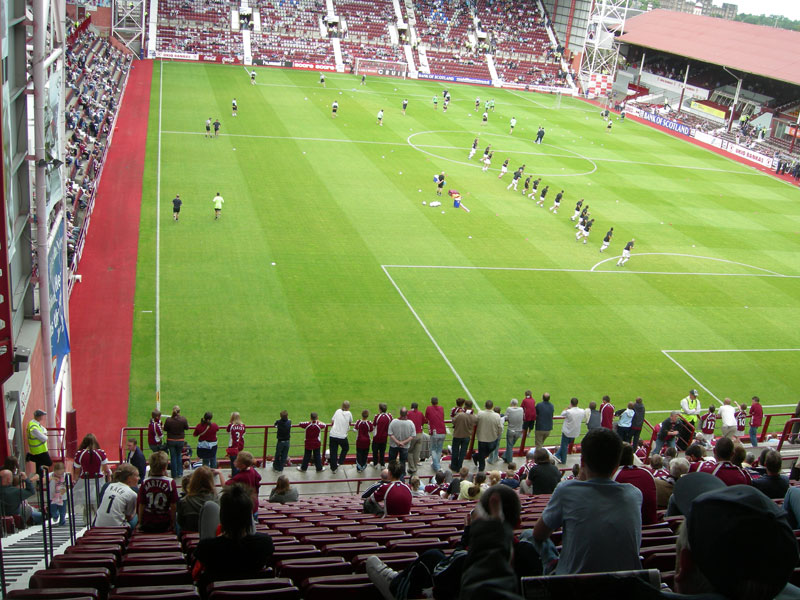 My seat was in the last row of the stand (row 28) and in the 4th to the last seat in the corner (seat 27), so basically about as far away from the field as possible. It wasn't that bad, though, as there really isn't a bad view from any seat in Tynecastle. It was also a great vantage point because I was able to sit next to several true Scottish soccer fans.
I don't think you can fully understand what I'm talking about unless you were at the game itself, but these fans were intense! The entire stadium clapped every time the hearts did anything correctly. This includes a good pass, a throw in, a shot on goal, etc. This is unlike American sports, when we usually only cheer when points are scored.
Even better is the response from the Hearts fans whenever a Heart did something wrong. The fans were quick to criticize players whenever they did something wrong! I've never heard so many f bombs in my life! For example, when #7 McCann of the Hearts made a bad pass, I heard a man yelling "c'mon ya fookin McCann, get yer hed in da game!". When he screwed up again, a different fan yelled "get off the fookin field McCann, you fookin pish!"
The game itself was pretty exciting, although no goals were scored. Yes, my first live football match ended in a 0-0 tie! The Hearts had plenty of scoring opportunities, but they couldn't put the ball in the net. One thing that I found interesting, and a little annoying, was that there were no clocks in the stadium! No clocks to be found, no scoreboard, no jumbotron, just 90 minutes of soccer! I thought was cool and enjoyed the novelty, but I think it'd be annoying to have to deal with that every time I went to a game. That wouldn't go over very well in America!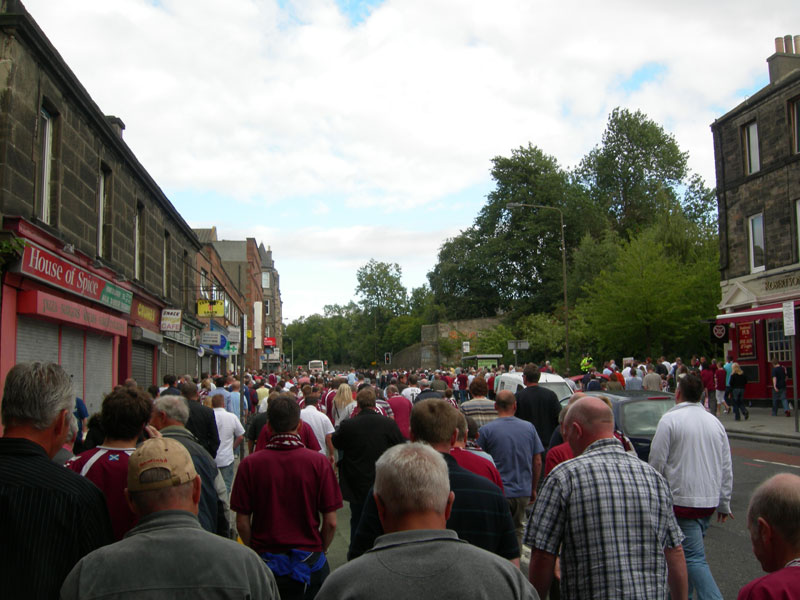 After the game got done, we followed a mass exodus out of Tynecastle into the streets of Edinburgh. It was quite the site! 18,000 fans, most of which were wearing the maroon stripes of the Hearts. It was a beautiful sight! Apparently, it's like this after every Hearts game. The crowd was pretty subdued walking down the street, but I hear that if the Hearts win, everyone on the street is singing and cheering as they walk down the street. That would have been a great site!
We figured that with the size of the crowd that we wouldn't be able to find a bus at all; there were just so many people that the odds didn't seem good. That's why we were surprised when a 44 bus drove right past us, made a stop about 10 feet away, and allowed us to board! Jackpot!! We rode the 44 all the way to the flat, and hung out for a few hours before it was time to go out.
I didn't want to drink much because we had to leave at 9:15 the next morning to go to St. Andrews. We started off at a bar near the city center. This was actually a bar that was filmed during a scene in Trainspotting, which I found to be pretty cool, given my previous mentioning of the movie. We had a few rounds at this pub and then decided to go to a "proper club". This was my first European club experience, and it was just like how I thought it would be. Loud techno music, dim lighting, and a whole lot of people dancing. My desire to dance directly correlates to my blood alcohol level, so in order for me to start dancing, I needed to consume more units of dancing juice; stat!
I started with just drinking beer, but that didn't give me happy feet. The others were dancing by this time, so I got a lot of gaff for my reluctance to cut a rug. There's something about a bunch of large Scotsmen saying "aye Jeff, ya're a fookin pansy… might as well drink a proper shandy". A proper shandy is an insult to men everywhere. It's the result of mixing half a pint of beer and a Smirnoff Ice beverage, which is highly regarded as a girly drink both in the states and abroad. Telling me to drink such girly filth was their way of telling me that I needed to start throwing back some booze! I was still trying to take it easy, because it was already past midnight, and I had to be up at 7 AM, but they were wearing me down with each drink. I gave it my best effort, but I was overmatched, especially when the shots started coming.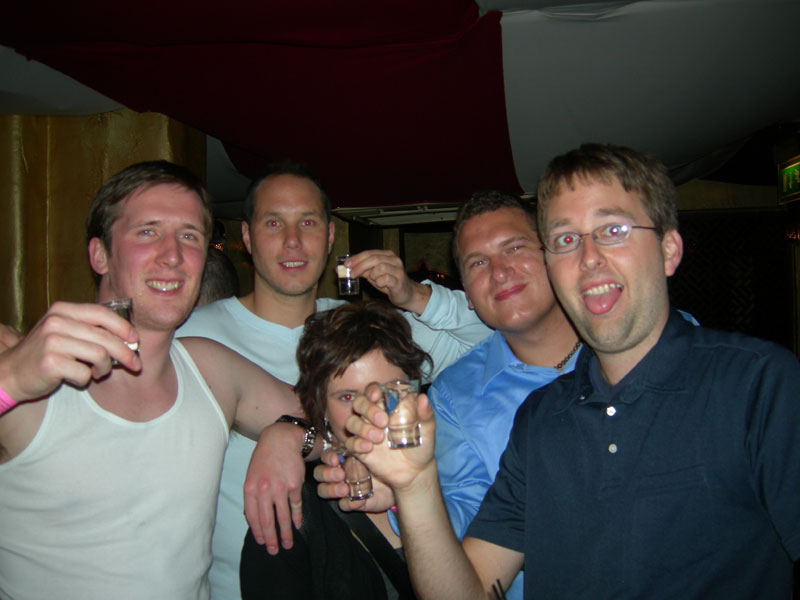 Much like in America, the way of proving your manliness in Scotland is drinking a straight shot of alcohol. I agreed to take a shot with Grant (the owner of the flat I have been staying in) and about 20 seconds later, I had a shot of sambuca in my hand. After taking it successfully, I had another shot waiting for me. After these two, I was ready to dance!
I danced to techno music for an hour or so, and slowly forgot about my responsibilities the next day. Then I suddenly had a burst of conscience and tried to round up the crew so that we could get some sleep before tomorrow's trip. Nobody wanted to go! I ended up leaving the club alone, and trying to find my way to the bus station so I could get a ride home (I had an all-day bus pass from earlier in the day, so this would have been the cheap route). I couldn't find the bus stop! Apparently I wasn't paying very close attention on the way to the club, so I was totally disoriented. I walked and walked, but couldn't seem to find my way. I decided to back track and try to find a cab, only there were no cabs available!
Rather than admit defeat, I set out again to find a bus stop and along my way, I met two young Scots who were walking the streets and heading to a chippy. I asked them where I could find the chippy, and they told me to follow them. At first they were fairly apprehensive toward me, sort of wondering "what is this American doing following us" and then they started asking me some questions. I told them where I was staying, and they said that they didn't know where it was. They must have thought I was crazy! I finally told them that it was by the Sheep's Heid, and they said "aye"!
Now that we agreed on some common knowledge, they opened up to me a little. They still thought I was a moron for getting lost, but at least things were improving. They kept asking me if I knew where ANYTHING was in Edinburgh. Rather than admit defeat, I told them "I know where club Habana is; that's the club you hang out at every night!"
Club Habana is a gay bar!
We walked by Habana earlier in the trip, and Ed told me that it was a homosexual hangout. I'm glad that I filed that tidbit of information away, because it really came in handy.
These guys thought my joke was hilarious and started opening up to me more than ever. (On a side note, this is my new favorite insult to tell guys, because there's no good way to respond. If you tell a guy that they go to gay bars, they will be speechless! I'm hoping this one comes in handy for years to come.) We started walking down Princes Street to the chippy, and they asked me some more questions about what I was doing walking alone in Edinburgh. We passed by a Burger King that had just closed, and there were 10 people waiting outside. They were all upset that they couldn't get food (late night after bar eating is hugely popular in Edinburgh!), so I told them I would try to get us in.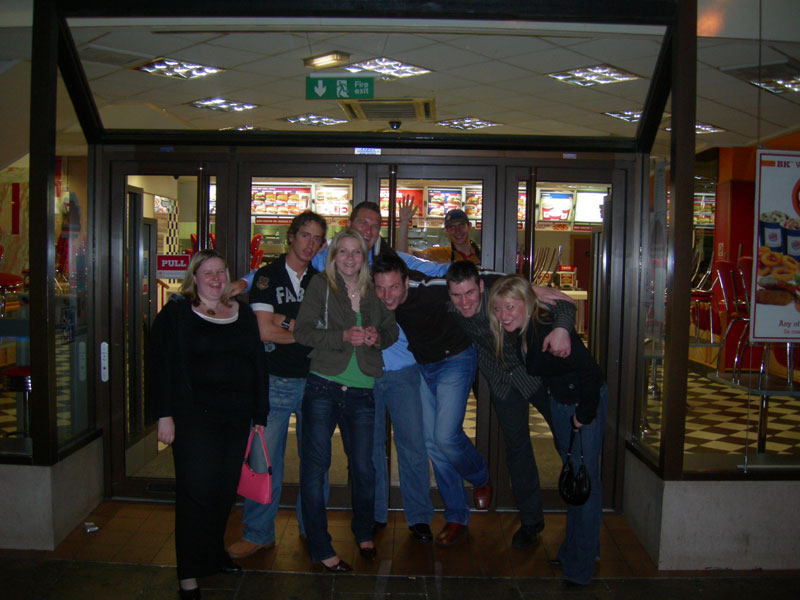 I started pounding on the door and looking at the staff, trying to use hand signals to get them to open up the store. No dice, but it did lead to some great exchanges between me and the Scotsmen who were guiding me to the chippy. They started yelling "the American wants Burger King, and he wants it now! Open up for the American!"
I played on their yells pulled out my ID card to verify my Americanism, but we still had no luck! I did manage to snap a photo, though, of my gang of Scottish friends right outside of Burger King. My favorite part of the photo is the store worker in the background waving to the camera. This is one of my favorite pictures of all time!
After Burger King, we finally walked to the chippy. I was craving some chips and cheese (with brown sauce, of course) and these guys wanted the same. I told them I'd buy their chips as a token of my gratitude, and they had no objections. Right as we got outside of the chippy, I noticed a familiar face; Gavin, one of my Scottish friends! Ed and Becky were in front of him in line, and they were all ordering food at the chippy!!!!!
We ended up ordering the food, I exchanged email addresses with my new Scottish friends, and Gavin, Becky, Ed and I found a cab to drive us home.
What are the chances that we would end up at the same chippy at the same time, half way across town? Also, as an indicator of how long I was lost in Edinburgh, it was about 4:30 AM when we finally met up with each other. I am pretty sure that I left the club at 1 or 1:30. That means that I was lost in downtown Edinburgh for over 3 hours!!! It was one of the scariest yet exhilarating moments of my life!
I know that some of you reading this might think I'm absolutely crazy to be wandering around alone in a big city such as Edinburgh between 1 and 4 AM. You are most likely correct. However, in my defense, I'd like to add that Edinburgh is a very low-crime city, and I feel much safer here than I do in downtown Minneapolis or St. Paul.