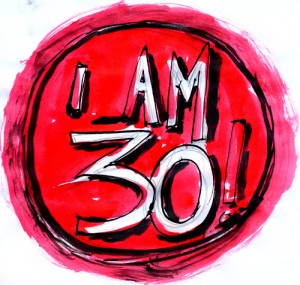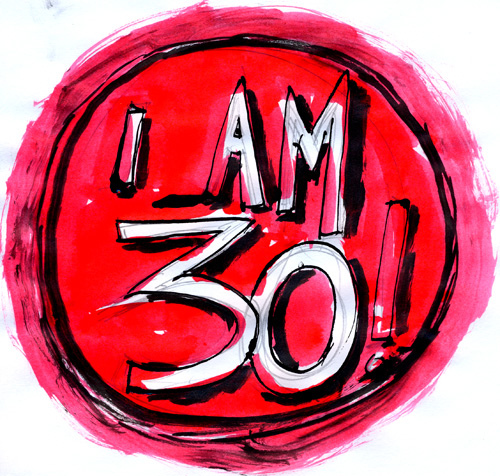 Time is an artificial barometer we use to indicate success and failure.  We draw a line in the sand and judge all of our achievements based on where we stand when we hit that deadline.  Meet your goal before the alarm goes off and you are considered a success.  Miss the deadline and you have either failed outright, or you have already adjusted your expectations to aim for something more realistic. Depending on your motivation and self worth, expectations can be adjusted indefinitely or forgotten entirely as time passes.
Today I turn 30 years old, and for some reason this has always been the age I have used to judge successes and failures.  I have no idea why, but I never set any goals for myself to be achieved by 40 or 50 or even 35.  I just never thought of life beyond 30.  The thought of getting this far seemed light years away, so most of my explicit goals were to be done by the arbitrary age of 30.
As long as I can remember, there have been two overarching goals that were centered around 30:
To travel to 6 continents before I turn 30
When I was 18, I told my Grandpa that I would become a millionaire by age 30
I wrote about the first goal of world travel extensively last month, having achieved the goal mere months before my self-imposed deadline.  I have written nary a word of the second goal in this blog or elsewhere, as to be so would likely create more negative reaction than I could fragilely handle at any point in the previous 30 years.
I write about it today only to share in my failure to achieve this goal.  I do not have $1 Million in US currency in the bank.  On the very date I was supposed to celebrate my financial achievement I am publicly admitting defeat.
Why am I doing this?
Because even while admitting failure, a failure I am not.  Setting a big hairy audacious goal (BHAG) and laying a foundation to meet this goal has mixed my lifes achievements into a cocktail of experiences and fiduciary responsibility.
Chasing my goal helped me get out of debt.  It allowed me to quit my dead end job and join Three Deep as a consultant.  It afforded me the opportunity to meet so many great people over the years and find my voice both personally and professionally.
It has humbled me as I watched a company I helped build make the Inc 5000 list of fastest growing companies, all while achieving the title of the 9th best place to work in the Twin Cities.  Creating jobs and watching Three Deep grow from 5 people to 35+ people in the worst recession of the past several generations.  This is worth far more than money.
Throughout all of this, money has really not factored into any of my career or personal decisions since I quit "working for the man" in 2006.   Its only influence has been in motivating me to quit in the first place.  That decision alone has put me in a position to someday achieve my arbitrary goal.
And the money will come.  I have just adjusted my expectations to something more realistic.