I have been using an iPhone app called RunKeeper to track my running activity for the past 3+ years.  It is a handy app that uses either the GPS in my phone to track my location and distance on a map as I run.  It also allows me to manually enter my time and distance when I run on a treadmill.  I have used it for walking big cities, running my "normal" route at home and even hiking in the Rocky Mountains.
Today I used it to log my run through Washington, DC as I meandered onto the national mall, ran around the Washington Monument over to the Capitol building and back.  The run was very refreshing in spite of the 80 degrees of humid air at 8:45 AM.  My only complaint was having to wait 45-60 seconds at intersections for cars to pass.
One of the cool new features on the app is that I can take photos along the way and they are automatically placed on my run map where they were taken.  Great way to remember the route.  Now I can share some of my more exotic runs with anyone who wants to see them (and even those of you who don't care!)
Other than waiting for the stoplights (which added 5-10 minutes to the run), I made great time and enjoyed my route.  During my week in DC I am going to try and document a few more routes if they are interesting.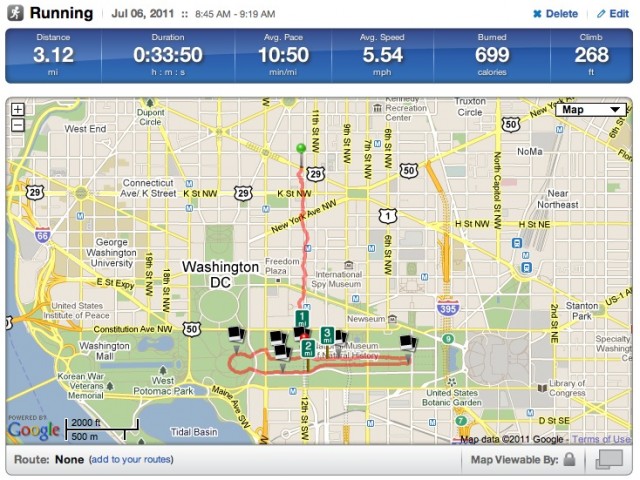 For you photo lovers, here are the rest of my sights along the way. There was an international themed food fare taking place on the mall as I ran by. Not a bad way to start off the day!