"The world went and got itself in a big damn hurry. "
– Brooks
Back when I was an unhappy fat bastard I never imagined a life resembling the one I live right now.  Over the years I have taken on a wealth of personal and professional responsibility, commitment and development that is downright overwhelming to think about.  In fact, I have so much swimming through my head that I feel compelled to write it all down as therapy.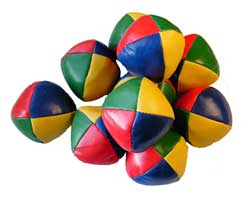 My personality lends itself to obsessive behavior – I am an autodidact in all senses of the word, and have an extreme sense of commitment that makes me loyal to a fault.  I have a hard time letting go of things when I have worked hard to acquire or nurture them.  Amanda calls me a hoarder for this behavior – I just call it reality.
Over the years, accumulation becomes a juggling act that gets more difficult as more balls are added.  Many balls barely stay in the air, and the act of juggling becomes more and more difficult.
It would be really easy to simply quit some commitments cold turkey or phase certain aspects out of my life, but which ones?  I really enjoy everything that I have added to my life in the past several years.
So rather than complain about being overwhelmed, maybe it's more healthy to celebrate the balls that I have put in the air.
Relationship – Without getting into too much detail, being in a long distance relationship has a significant impact on priorities and time management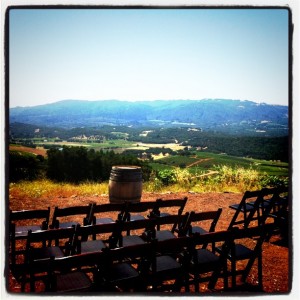 Wedding Planning – I asked Amanda to marry me in March and while our wedding date is still 9 months away, things are bound to start heating up in the near future.  We have already planned to have a small family wedding at Kunde Estate in Sonoma Valley
Three Deep – Among all commitments, this one takes up by far the most time – but is also responsible for almost all of my livelihood.  It is also among the most rewarding things that I do – growing a company from a small start up to a great place to work and a great company.
Freelance Projects – I like to stay fresh as a marketer and web developer, so I will occasionally take on freelance projects that fall into ideal situations (developing sites in WordPress).  I always do a great job, but not always in a timely manner.  This is a ball that usually has the biggest chance of dropping each day.
Gardening – This year I started my first food garden in my yard and it's been a fun experience.  Next year I would like to take it to another level by installing a retaining wall/garden bed and taking it to the next level.  This will take a lot of up front time (which I enjoy – need an annual house project), and will be therapeutic.
Charcuterie – I already showed you how the sausage is made.  I plan on making much more of it!
MIMA Board – I joined the board of the Minnesota Interactive Marketing Association this year, and it has been a very valuable experience.  It is my first non-profit board membership, and I have learned a lot from the team.  I am also contributing by managing the website for the annual summit, the main website and the MIMA blog.  I drastically underestimated how much time this would take, but I feel a sense of accomplishment seeing it come together.
Pool N Patio – Not many people know that I also own an online e-commerce business that sells pool equipment online.  It has been a very interesting experience and I wish I could spend more time on making the store better – but for the most part I have neglected things while I work on other ventures.
Bodyguard Careers – This is a website I have worked on with Hucky for the past 7 years.  We do a lot to contribute to the education of people looking to get into the Executive Protection industry and it has been great to see it grow.
Speaking Engagements – Over the past 12 months I have averaged a speaking gig every 1-2 months.  I have presented in front of the St. Paul Chamber of Commerce, MIMA, Project Skyway, Nonprofit talk and many others… as well as client presentations with Silverpop and Google.  This is probably my biggest guilty pleasure.  For some reason, I love public speaking and evangelizing online marketing to anyone who will listen!
Mentorship – I really enjoy providing career mentorship to people who are interested in a career in marketing.  I had to learn everything on my own due to a lack of available resources, so I try to get people on the right career track whenever I can.  This includes employees at Three Deep as well as people outside of the organization.
Social Life – I still try to meet up with as many friends as possible, but I have found that a lot of my social outings have become career motivated in recent years.  I still keep in touch with most high school and college friends, but seeing work and industry friends have become my most frequent social events.
Travel – I spend around 130-150 nights a year in a hotel room or guest bedroom.  I'm a platinum flyer with Delta and Gold with Hilton hotels.  I love seeing the world and don't want to trade this in until I have kids and need to settle down.  More than anything, this causes me to juggle the most, so I probably won't be heartbroken when I find myself a silver elite flyer instead of platinum at some point.
Family – At times I feel like I neglect my family, but for the most part I still see everyone at the same rate I always have: 1-2 times a month.   When we do see each other, I try to make sure it's quality time.
Photography – I began an attempt to organize all of my photos over the years and have made progress, but it's still slow going.  I would also like to get better at taking advanced photos with my camera (i.e. not
Wine – Wine is awesome.  I love to collect it and drink it.   Heck, we are getting married at a winery!  My favorite winery right now is Wellington in Sonoma, with Ty Caton being a close #2.
Things I have virtually cut out of my life:
Casual Sports Watching – Sports are all but gone from my day to day life.  Other than my season tickets with the Twins and catching ballparks on work trips, I hardly have sports on my TV.  I have even started to DVR Vikings games and watch them on a delay!
Writing – I love writing and it pains me that I don't do more of it.  I simply have too much brain drain during most weeks to even think about writing something to share with the world.  Most of my writing is started by a thought I have in the shower or in the car – I will get inspired to draft something, run out of time, and have the post sit untouched for months/years.  It doesn't really seem worth it to post incomplete thoughts, and I'm not sure what my audience even is for complete articles (outside of my sisters awesome encouragement).
Weeknight Socializing – What does that even mean?
Lazy Weekends – Yeah right.  I am up at 6:30 AM most weekends naturally.  I'm getting old dude.
Idleness – Not sure I could sit idle anyway, but I have filled my time with so many commitments that guilt sets in well before I spend any time idly standing by
Television Surfing – DVR baby
This is the life I have chosen – and I like it.  At some point change will come and I very well may long for this exact moment.   Until then, I will continue to seize today while it's here and become a better juggler.