Posts in this series:
Delta Business Class from JFK to PRG
Prague Day 1
Prague Day 2
Vienna Christmas Markets
Amsterdam
Delta Business Class from AMS to MSP
In October my brother told me he wanted to go on a "mileage run" to secure Platinum status.  Needing around 8,000 miles to make the next level, he had the option of flying a few times around the US or making up the miles in a single trip overseas.  Europe was the natural choice, and after some deliberation between locations in Europe, checking schedules and prices, we decided to fly into Prague for 3 nights, with a layover night in Amsterdam.
Since I already secured Platinum status for 2012 back in September, and I have amassed far too many Delta Skymiles than I can possibly spend in the short term, I decided to use my frequent flyer miles to book an award ticket in Business class.  This was my frist time in international business class, but after reading flight reviews from several aspirational travel bloggers, I had a good idea of what to expect.  I also knew the best way to spend my Delta Skypesos and receive a strong value.  I ended up getting my business class ticket for 100k skymiles on a ticket that had a $5,000 face value.  That's 5 cents per mile, which is a very good value (you'll have to trust me on that one).
Taking the cue from these travel bloggers, I have decided to document this trip in a format similar to what they use: break up the flights, hotels and cities into multiple posts to showcase each part.  This post focuses just on the flight, and ensuing posts will cover the cities visited.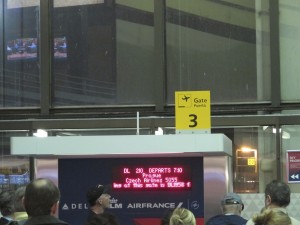 After a 9 hour layover at New York's JFK airport, we boarded the flight to Prague for an overnight flight that took off at 7 PM in the US and landed at 9 AM in Prague.  The first thing I noticed when I took my seat was the legroom.  There was significantly more legroom than any domestic flight you'll see.  This is so that you can lay in your seat overnight (this particular seat was an older version that simply lets you recline at a 45 angle or so, but not lay down fully.  The seat also wasn't long enough for my 6'2″ frame.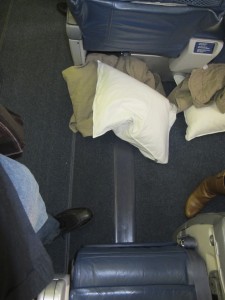 The seats on this plane were also fairly old by modern standards (not complaining, just pointing it out), but had a nice adjustable headrest that could be used to prop your head up before sleepy time.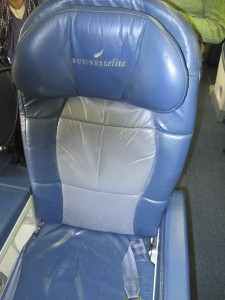 The seats were definitely better than what you'd get in coach class, but from what I have read, they are not the best that Delta has to offer.  Again, I'm not complaining – just educating.
They also give a nice pillow, sturdy blanket and an amenity kit, which came in handy later in the flight.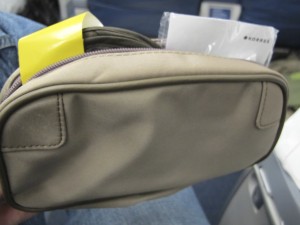 After boarding we were given a pre flight drink option of champagne or orange juice.  I chose the Champagne of course.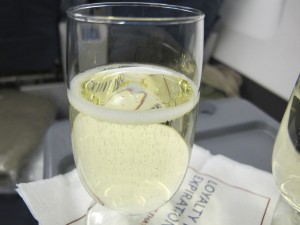 We were also given a menu of the food options for the flight, and asked to give our order for dinner.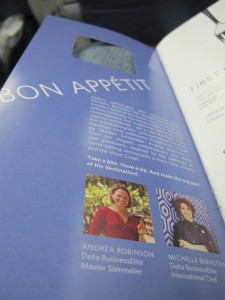 There were a lot of good looking options, but I decided on the beef tenderloin, because I love risotto.
Here is a look at the full menu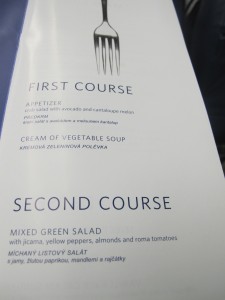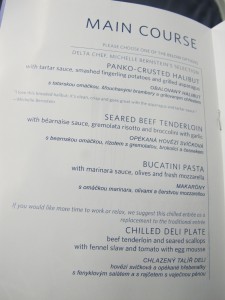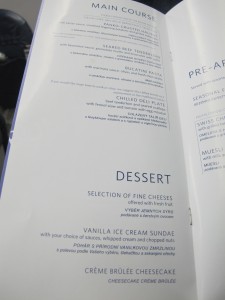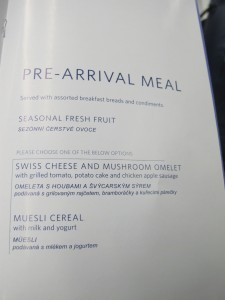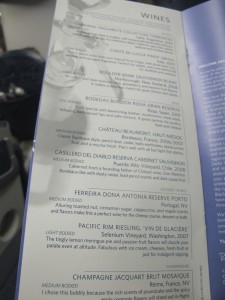 The Chilean Cabernet was quite tasty!
And here is what I ordered: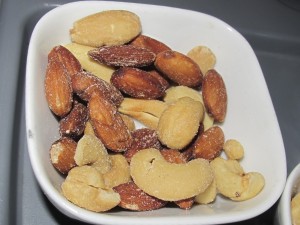 Started off with warm mixed nuts that hit the spot (I was getting hungry at this point)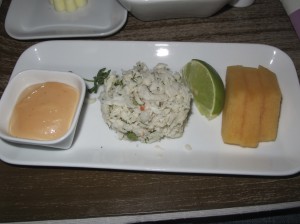 The Crab and avocado appetizer was OK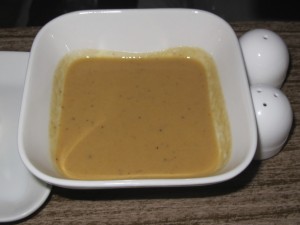 The soup was very good
The salad was decent, but the sour cream and dill dressing was not my favorite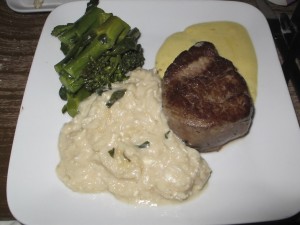 The beef tenderloin with risotto and broccoli stems was fantastic!  The risotto had an amazing flavor that was lightly sweet and savory. I have no idea what Gremolata is, but I am on a mission to find out.  The tenderloin was cooked perfectly, and the Bearnaise sauce was great on top of the beef and the broccoli.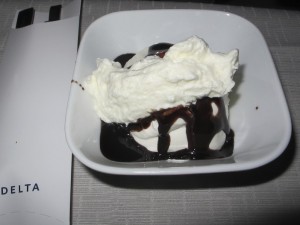 I did not need dessert, but how can you turn down a handmade sundae?  I can't think of a better way to end a sedentary day of travel than with a sundae.  It was as good as it looks.
About 45 minutes before the flight landed (and only 4 hours after dinner), I woke up and was asked if I wanted breakfast.  I wasn't really hungry, but the description for the Omelet sounded good enough to try.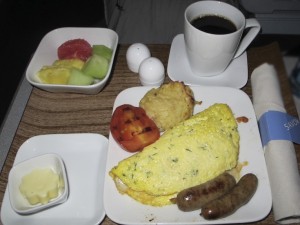 Good it was NOT.  It was probably one of the worst omelettes I have eaten and was just all around gross.  Fortunately, I wasn't hungry, so I didn't really miss it.
Landing in Prague was easy, with Customs going very smoothly and baggage claim easy to navigate.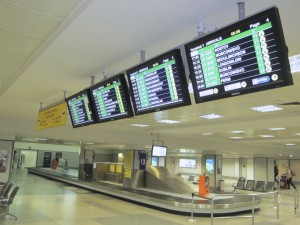 We found out that the best way to get to our hotel was to take a shuttle into the city center for around $6 total (that's cheap)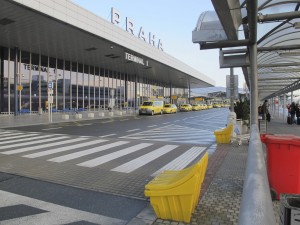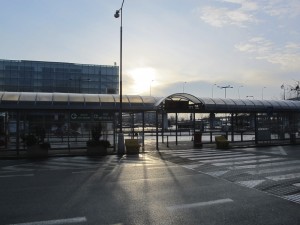 Within an hour of landing, we were on our shuttle into the heart of Old Town Prague for the next chapter of our adventure!