Posts in this series:
Delta Business Class from JFK to PRG
Prague Day 1
Prague Day 2
Vienna Christmas Markets
Amsterdam
Delta Business Class from AMS to MSP
Jeff's Rule #1 with international travel: Always stay at an American Hotel unless you hear great things about a hotel that is not American. Why the US bias you ask? Well, it's because American hotels are modern and have conveniences we are used to having every day. European and other hotels don't seem to put the same emphasis on cleanliness, bedding, etc. that our American hotels do. Also, these hotels usually have really nice lounges in them that have free food and drink that often comes in handy.
We stayed at the Hilton Prague Old Town for our trip and it was a fantastic choice. It had great amenities and an awesome lounge that we used quite often.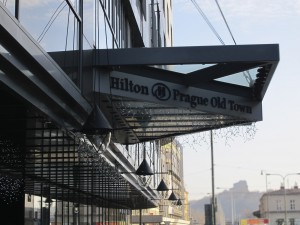 With that said, we didn't spend much of our time in the hotel. Most of our time was spent exploring Prague. The whole city is like a walking museum – with each building more beautiful than the last. I'm not sure the photos do it justice, but they will have to do for now.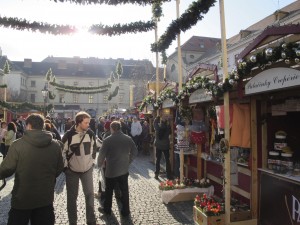 Old Town Prague is perfect for walking. You can pretty much see everything by walking within a 1 mile radius. Right outside of our hotel was our first Christmas Market, which would be the first of many christmas markets we would see.
For those of you who have never heard of a Christmas Market before, it is a marketplace in city squares and parks where vendors come to sell various foods and crafts associated with Christmas. Some are as small as 10-15 booths and others have hundreds.
One of my favorite parts of the Prague Christmas Markets was the distinct food. Everything was very unique to Czech Republic and unlike other things that I had seen anywhere else.  From Trdelnik (a doughy pastry cooked over wood fires) to hot mulled wine, there was excellent food and drink to keep us warm in December.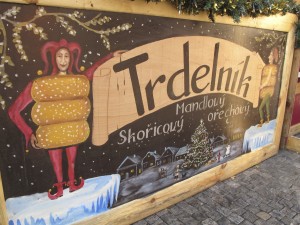 Most of the day was spent walking around, snapping photos, and enjoying the sights. So many of the buildings had murals painted on them and some very ornate carvings in the stonework. Incredible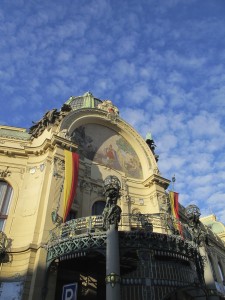 This guy was my kind of guy. Those hams were all gone by the end of the day!
Here's what a live Trdlo looks like. After spinning over a wood fire, they roll it in a sugar and spice solution. Despite all of the work involved, it's actually sort of boring.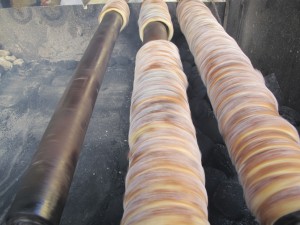 The main Christmas Market in Prague was the gathering point for most tourists and locals.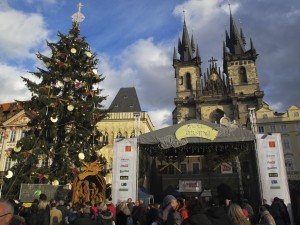 We decided to pay 5 euros to go to the top of a tower to get a better view of the town. This was one of the many good views.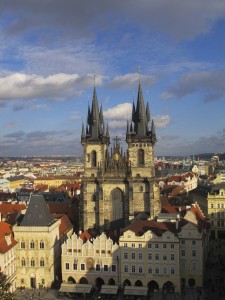 After climbing the tower, we needed to eat more. Here we try what looks like a giant "elephant ear" covered with Garlic, Ketchup and Cheese. It was decent, but sort of boring.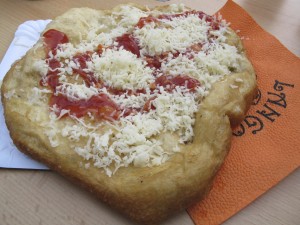 The cheeses in the market looked awesome, but we only had a day, so I refrained from eating them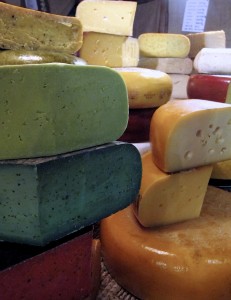 After a quick nap, we decided to have a night walk around the city. Below is the hot mulled wine station (Medovina) that can be your best friend on a cold December eve.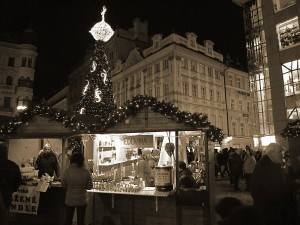 The main Christmas Market looks even better at night!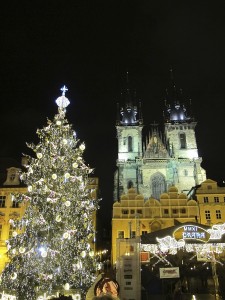 The Christmas tree itself had some really cool lights that moved constantly. Photos don't do it justice, but here is a video I took: Cool Christmas Tree
With all of the markets lit up in red, Prague is really a captivating city at Christmas time.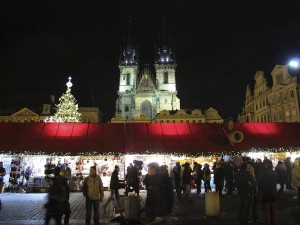 We ended the night by having some traditional Czech Absynth. Absynth tastes like shit, but it's fun!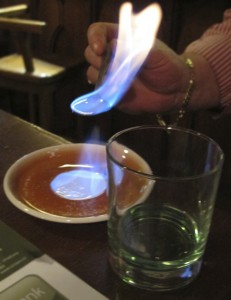 More to come from my December, 2011 trip to Prague, Vienna and Amsterdam!