At any given time, I have between 5-25 tabs open in my Google Chrome browser, toggling between information, keeping track of items I want to discover, and more.
One of the tabs I had open from early March through mid July was an offer for a $75 statement credit (waives the annual fee for 1 year) when signing up for the Hyatt Visa Signature card, which is one of the better cards available for hotel programs.
Unfortunately, I was not able to apply for the credit card in time before the offer expired, and I thought I had missed out on the opportunity. I was disappointed, because I wanted this card in particular for the European portion of my upcoming trip, because it has a Micro-chip on the card, which is very important for European travel. I learned this the hard way when I was in Prague in December and most merchants were hesitant to take my credit card without a microchip.
Fortunately, I saw a post from Gary last week that announced the $75 credit offer was available again. All you have to do is visit the Hyatt website, start a reservation and you will be met with a targeted credit card offer.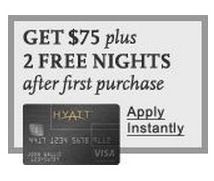 Not only is the credit card completely free, but it also offers some amazing benefits for frequent travelers:
Instant Hyatt Platinum status (usually requires 5 stays or 15 nights in a year)
Two free nights at any Hyatt in the world (easily can be worth $1,000+ internationally)
Free upgrades for current Platinum members
A free night every year at renewal
Smart Chip on your card (big plus for European travel)
No Foreign Transaction fees (look at this as a 2.7% rebate traveling abroad)
3 points per $1 spent at Hyatt properties
These are some amazing perks for essentially paying $0 to get started. There doesn't even appear to be a minimum spend required to get this deal.
So basically, you can get 2 free nights and platinum status for free. That's a good deal friends.
Needless to say, I bit the bullet and signed up for the card on Sunday. They didn't tell me I was approved right away, so I was afraid I wouldn't get the card at all or at least not in time for my upcoming trip.
Boy was I wrong. The card was waiting for me when I got home on Tuesday – beautifully packaged in an overnight envelope.
The packaging was beautiful, and the card fits nicely in my wallet. It's almost as elegant as my Chase Sapphire Preferred card, but without the nice weight.
What an incredible experience signing up with this card. Chase and Hyatt have created a fantastic program.