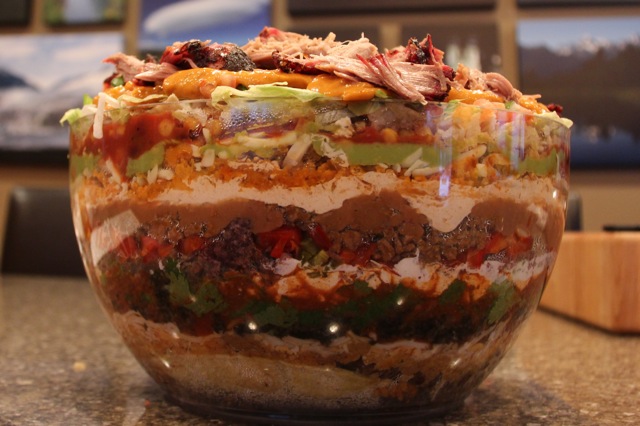 I didn't invent the idea of taking a traditional 7 layer dip, injecting steroids, adding a multiplier to the number and creating a terrine of taco, but the following step by step guide to creating an 35 layer dip is a true original.
While I was originally inspired by the 47 layer dip, I settled on 35 layers for two reasons: 1) Many of the items in the 47 layer dip were gross and 2) I wanted to make a dip that would taste good and include items I would consider to be normally welcomed in a Mexican dish. Sure, some things are a stretch (like the addition of pulled pork and Feta Cheese), but they are also deliciously welcomed by those with an open mind and empty stomach.
Math Wizards will appreciate that 35 is easily divisible by 7, resulting in the number 5. One could say that this dip will have 5x the impact of your standard 7 layer dip. Pragmatists understand that the maximum that something can be better than something else is 5x, so why waste our cycles considering a number of more grandeur?
The ingredient list reads like a lost sonnet that Shakespeare wrote to his first love; if only his first love were an edible take on the earths crust. Part science project, part scientific method, part reliance on modern science to cure heart palpitations. The 35 layer super bowl dip is a labor of love, a labor inducer and a picket crossing labor strike ending point of negotiation that brings both world peace and creates the worlds most renewable energy source.
As I sift through the photos of each layer of the dip, I feel a sentimental bond with each and every ingredient included in this masterpiece. Sure, you could make a 50 layer dip, a 100 layer dip or more, but you are just being greedy. 35 is the magic number for delivering mouth magic.
So fire up your iPad, go to the grocery store and follow along closely. This dip will change your life, improve your financial position, quintuple your sex drive and beat up your high school bullies. 35 times – one for each layer.
The Recipe
Note: You can probably add more ingredients or take them out. Nobody will judge you. You can also put them in whatever order you want. The next time I make this type of dip, I'll almost certainly change the order. For those of you purists out there, here are the ingredients and recommended dosages to create the dip you see in these pictures.
[amd-zlrecipe-recipe:1]
By this point your bowl will be very heavy. Take the time to weigh your dip to make sure it meets your standards.
So was it any good? Surprisingly, it was fantastic. Don't just take my word for it, here are some of the comments I received on the dip:
"Man, I gotta stop eating that dip. This is my 3rd bowl"

"If that dip weighs 20 pounds, that means I have eaten about 2 pounds of it so far. So addicting"

"That dip is actually good. I thought it would be bad, but it's so much better than I could have ever expected"
There you have it. A modern day masterpiece. It's time to shake up your idea of what a dip should be and bring 5x the pleasure to your friends, family, acquaintances, the soup kitchen you volunteer at, church potlucks and pregame meals.
It's time to go 35 layers deep with dip.